How to Choose: Options, Packages & Styles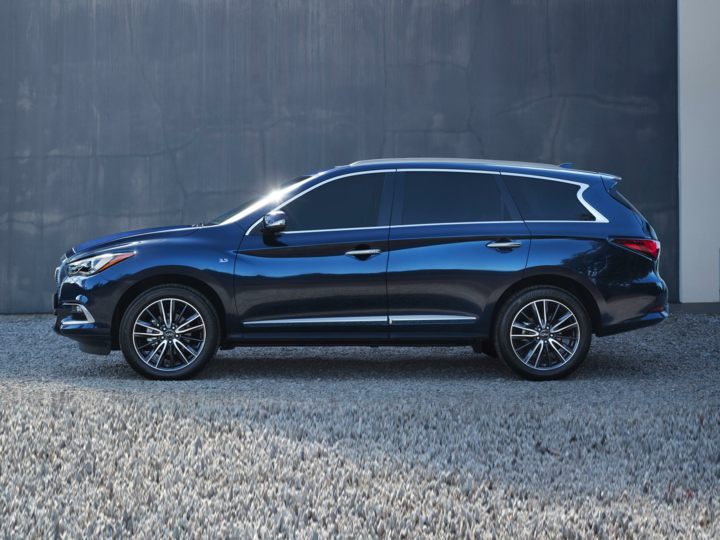 Yet another seven-passenger crossover in the luxury realm, the QX60 distinguished itself with unique looks and a relatively low starting price. You also get rich interior appointments and adult-size room in all three rows. What's... Read more »
Facelifted for 2016 with new front- and rear-end designs, INFINITI's seven-passenger, three-row luxury crossover descended from the JX that debuted for 2013. Sharing its structure with the Nissan Pathfinder , it gets a stronger V6... Read more »
More on the INFINITI QX60:
If you're wondering why the INFINITI QX60 looks a whole lot like the JX35, wonder no more: they are essentially the same vehicle. The QX60 is the JX with a few minor tweaks, and it follows INFINITI's new nomenclature, with "QX" denoting an SUV, and the numbers following it describing its position in the lineup (the higher the number, the higher the standing).
But the big news in 2014 wasn't the name-change in INFINITI's lineup; it was the addition of a hybrid model. The three-row, seven-passenger Q60 hybrid is popular with families who need space for multiple kids and all their gear, and the cushy cabin and responsive handling don't hurt, either. Under the hood, the hybrid has a supercharged 2.5-liter four-cylinder engine combined with an electric motor that puts out 250 horsepower -- enough to make drivers feel like they're behind the wheel of a V6. When it comes to combining utility and style under one roof, the QX60 hybrid is a top contender.
2014 - 2017 INFINITI QX60
Major changes included:
In 2014, INFINITI replaces its JX lineup with the QX50, which carries over with the same design language as its predecessor. The QX60 comes standard with a 3.5-liter V6 engine that produces 265 horsepower and 248 pound-feet of torque, and delivers it to the front wheels through a continuously variable transmission. All-wheel drive is available as an option.