How to Choose: Options, Packages & Styles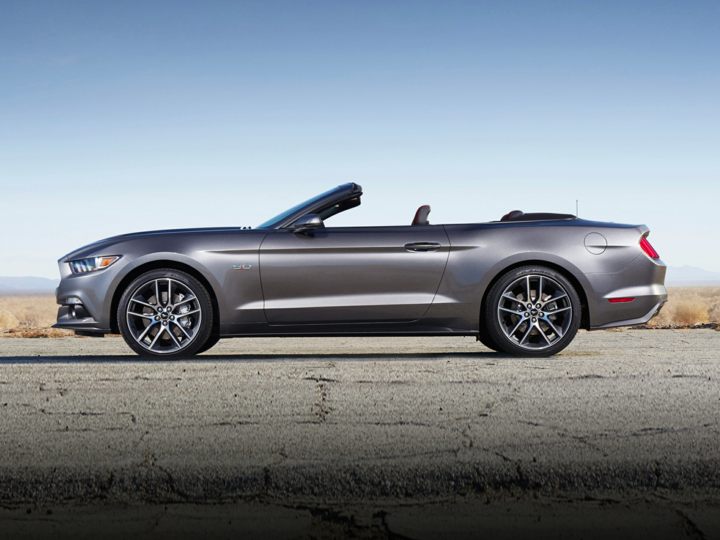 The 2017 Ford Mustang has not been majorly changed since 2015; however, it continues to be one of the top muscle cars on the market today. What's New for 2017 The 2017 Ford Mustang continues... Read more »
The Ford Mustang was the bestselling performance car in the world in 2016. While this feat may be largely the result of Ford's ambitious global marketing plan – previous Mustangs rarely made it far beyond... Read more »
More on the Ford Mustang:
Ford's 1964½ Mustang was a runaway success that defined an entire category with the moniker "pony car." As the sixties turned into the seventies, however, the Mustang became bloated and lost its way. Its fortunes revived in the eighties and nineties as the Mustang returned to a performance orientation.
But it wasn't until the retro-styled fifth generation—released in 2005—that the Mustang regained its magic. As with the original Mustangs, the current model can be ordered with engines ranging from the mild-mannered to the wild-and-crazy.
Major changes included:
The 2015 model year ushers in a new generation for the iconic Mustang. It receives an all-new, sleeker body and a completely revamped cabin. The biggest news for this new generation is the elimination of the live rear axle in favor of a more modern independent rear suspension. New for 2015 is a 2.3-liter EcoBoost four-cylinder that produces 310 horsepower and 320 pound-feet of torque. The 5-liter engine returns, but Ford boosted it to 435 horses and 400 pound-feet, while the 3.7-liter V-6 also returns but with its power reduced to 300 horsepower and 280 pound-feet of torque.
Major changes included:
In 2010, the Mustang entered an all-new generation with a complete restyling on the inside and a body design that harkened back to the 1960s Mustangs. The engine options remained the 4-liter V6 and 4.6-liter V-8, but the V8 powerplant gained 15 horsepower and 5 pound-feet of torque to a total of 315 horsepower and 325 pound-feet of torque. The Following year, Ford released two new engines, a 305-horsepower 3.7-liter V6 and a 412-horsepower 5-liter V8. In 2012, Ford introduced the Mustang Boss 302 with 444 horsepower and 380 pound-feet of torque, and upgraded suspension. Ford refreshed the look of the Mustang with a new fascias for 2013.

Major changes included:
Designed in homage to fastback models of the Mustang's first generation, a redesigned 2005 Mustang has a look dubbed "retro-futurism" by one Ford executive. For six years, the base engine is a 4-liter 210-horsepower V6, a GT model features a 4.6-liter V8 with 300 horsepower, and five-speed automatic and manual transmissions are available. The exterior is refreshed for 2010, and 2011 brings the availability of six-speed automatic and manual transmissions. Electric power steering replaces conventional hydraulics. A Mustang Boss 302—based on the original 1969—arrives with a 444 horsepower engine. An update in 2013 includes the top-line Shelby GT500 with a 5.8-liter supercharged V8 producing 662 horsepower.

Major changes included:
The first major redesign since 1979 occurs in 1994. The new base engine is a 3.8-liter V6 with a standard five-speed manual transmission or optional four-speed automatic. And it's a time to celebrate acceleration with the Mustang GT (1999-2004), which offers a 0 to 60 mph time of 5.5 seconds and a quarter mile time of 14 seconds flat. It's also the time for special editions: the 2001 Bullitt, 2003 and 2004 Mach 1, and high-powered Cobra.
Major changes included:
A variety of new trims and two different body styles debut with a third-generation Mustang in 1979. Its distinctive "Four Eyes" front fascia with four headlights remains for seven years, until a rounded aero-style look arrives in 1987. Fuel injection has been available since 1986, as well as "Quad" shocks that aid handling and acceleration. Disappointing sales prompt more changes on the heels of increasing fuel prices.