The Corvette is, without a doubt, the most popular Chevrolet ever built. It is also the most-protected model that GM has, as maintaining its status has reportedly resulted in the death of some wildly popular and powerful cars – we're looking at you, Buick Grand National. Now, with the Camaro nipping at the heels of the still-fresh C7 Corvette, Chevrolet is reportedly working on a C8 model with some rather wild ideas, including moving the engine behind the seats.
While the C8 Corvette is clearly still very early on in the design phase, we have seen plenty of spy shots. The shots show a car that retains much of the C7's design but modified for a mid-mounted engine. It's lower and wider than before, and features large buttresses behind the rear glass. It's important to remember that these are just spy shots, but in recent months, the mules that have been out testing have taken on more of a production shape.
We anticipate the Corvette's interior to continue improving into the new generation. This was a sore spot for the model heading into the current generation, but the automaker did a great job improving it. With the increased price tag, there will be even more wiggle room to improve the cabin
Of course, the specifics on the C8 Corvette's powertrain remain under tight lock and key at General Motors. There is, however, plenty of speculation and lots of rumors floating around. The most common rumor is a new LT5 V8 engine sitting behind the seats. The output of this engine is up or debate, but we would expect it to crest the 650-horsepower max of the current LT4 in the Corvette Z06.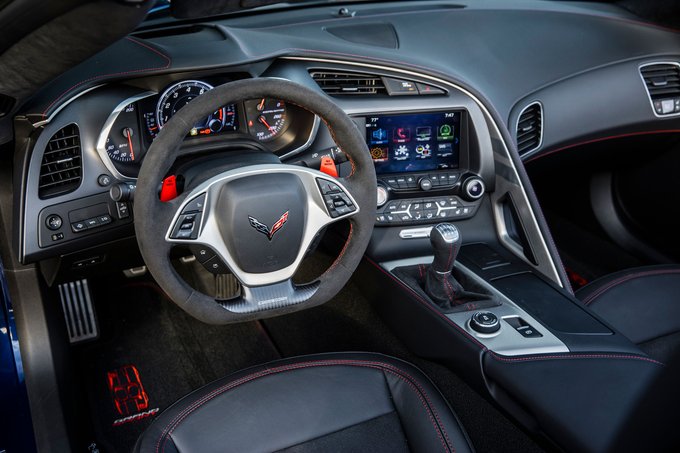 Additionally, with the trademark of the E-Ray name, rumors are starting to swirl about a hybrid version of the C8 Corvette. This would not only help improve performance, but with a small EV range, it could easily boast a 50 mpg city rating. There are also rumors of a higher-performing model boasting the recently trademarked "Zora" name.
As with all mid-engine cars, handling is expected to be out of this world. What's more, with the Corvette potentially entering this new class, Chevrolet could afford to go even more advanced with its chassis and stability systems.