Editor's Note: Official pricing added July 20, 2017.
Model Preview
The Subaru Impreza is expected to be a carryover for the 2018 model year. Having just undergone a complete redesign for 2017, no major changes are expected to the car's outward appearance. As with past model years, the Impreza is offered as either a sedan or a hatchback. The hatchback tends to be the most popular style, offering impressive versatility with only a modest premium in price over the sedan. Key competitors available in both styles include the Ford Focus, Mazda Mazda3 and Honda Civic.
Under the hood, shoppers should expect to see the same powerplant as the current car. The latest version comes with a single choice of a 2.0-liter 4-cylinder engine producing 152 hp with 145 lb-ft of torque. All-wheel drive is standard. As for transmissions, base versions feature a 5-speed manual, while a CVT is available. Although the CVT has been criticized for its lack of sportiness, its fuel efficiency is undeniably attractive at up to 38 mpg in highway driving.
It should be noted that the model is technically also available as the Crosstrek— marketed at times as a crossover but offering a small increase in ride height for enhanced visibility. However, the current Crosstrek is based on the older Impreza design and isn't due for an update until at least 2018. The Crosstrek actually featured a hybrid variant until recently. The brand hasn't abandoned hybrids, however— in fact, the automaker says it's actively developing hybrid and plug-in technology and will debut a revised drivetrain in the near future.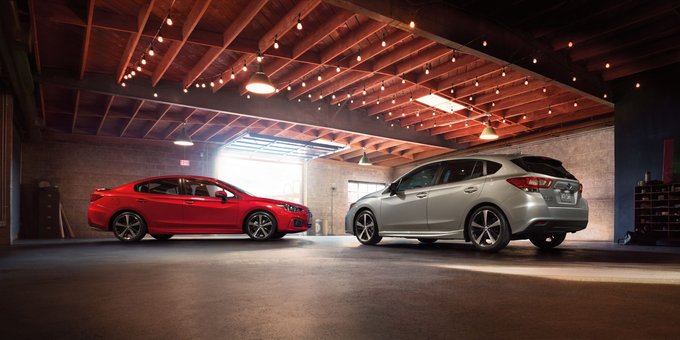 The Impreza's strongest selling point, apart from all-wheel drive, is its available Subaru EyeSight system on upper-tier models. The option adds a full suite of driver assistance tech like adaptive cruise control, automated emergency braking, lane-keeping assistance and more. Competitors have been adding similar features for 2017. In the case of Toyota, most of its small cars now come standard with a pre-collision braking system called Toyota Safety Sense (TSS).
Will the Impreza continue to succeed despite facing stiff competition? That remains to be seen.
Pricing & Release Date
The 2018 Subaru Impreza is on sale and beginning to arrive at dealers nationwide.
Official pricing starts from $19,355 with destination for the 2.0i sedan and $19,855 for the hatchback. Opting for the available CVT adds $1,000 to either price.
At the top of the range, the 2.0i Limited is priced at $25,055 for the sedan and $25,555 for the hatchback. These represent increases of $100 compared to the previous year.
The optional EyeSight package is available starting with the 2.0i Premium ($22,155 for the sedan, $22,655 for the hatchback) and adds $1,395 (or $2,395 when paired with a moonroof). However, its cost varies depending on which trim you choose. In the case of the Limited, it adds at least $2,495, or as much as $3,845 when bundled with navigation and a Harmon Kardon audio system.
As far as deals go, Subaru almost never offers cash incentives. It may be hard to believe, but finding one in stock is often a victory in and of itself since the brand continues to have one of the lowest inventory turn rates in the industry.
Whereas we see discounts like 0% financing and cashback from competitors, these are close to non-existent when it comes to the Impreza. We'll occasionally see Sign & Drive lease deals, which are generally about as good as it gets when it comes to Subarus.
Stay tuned for the latest info as it becomes available.
Pictured: 2017 Impreza